MR. DAVID MISCAVIGE, CHAIRMAN OF THE BOARD
RELIGIOUS TECHNOLOGY CENTER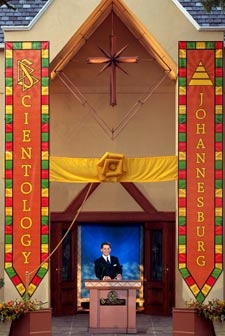 Keynote Address at the Grand Opening of the Church of Scientology Johannesburg
On Saturday, November 2, 2003, Mr. David Miscavige, Chairman of the Board of Religious Technology Center, was the guest of honor at the Grand Opening of the Church of Scientology of Johannesburg, South Africa.
Stating that it was his honor to address those attending the event, and "to walk in a land where L. Ron Hubbard laid so many milestones and on this, your milestone day," David Miscavige went on to describe how the opening of this new church was an historic event.
In his speech, in which he explained the significance of South Africa in the history of Scientology, Mr. Miscavige told the Scientologists, officials and many friends who gathered to celebrate this occasion, "You don't just represent the hopes and dreams of a continent, you represent the hopes and dreams of all civilization."
DAVID MISCAVIGE: Let there be no doubt — it is truly my privilege to be here today. Because, unlike your Master of Ceremonies and other distinguished speakers, this is my first time on the continent and your great nation of South Africa.
Mr. David Miscavige, Chairman of the Board
Religious Technology Center
Keynote Address at the Grand Opening of the Church of Scientology Johannesburg
In that regard, today also represents the fulfillment of a dream. Yes, your many executives have corresponded for years. So, too, have many South African Scientology dignitaries holding leadership positions around the world.
And each one in turn has heard me say, "I can't wait to go to South Africa." And while the photo calendars and books, sent annually, can give me a "picture," while the steady supply of Roibos tea can give a "flavor," along with every Wilbur Smith book for the "history," I can assure you none are a replacement for the real thing.
But lest anyone think the motivation or dream was purely personal and it was in part, the real meaning behind it all is both the historic role you represent in the world of Scientology, and the greater one you play in the future of this planet.
For that reason it is my honor to address you, to walk in a land where L. Ron Hubbard laid so many milestones and on this, your milestone day. And for the greater meaning of just why this is a milestone day, in fact, an historic one, it follows from the history of Scientology in Africa.
It's a history extending back more than 40 years, but an era not so very different than our own. Instead of hot wars in the Middle East, it was cold war across the US, Europe and Asia. Instead of impending terrorist strikes, it was saber-rattling with intercontinental ballistic missiles.
So quite in addition to all other reasons to form a new church and bring the help Scientology brings everywhere, LRH envisioned a special role for this nation as a point of safety to yet salvage man no matter the potential devastation at the hands of a madman.
That's why he descended on Johannesburg, in 1960, to take the helm of a fledgling Church. But if those were his reasons for embarking to South Africa, it took on a whole new meaning when he arrived. For what he found was a land representing both all that is good in this world, and all that is bad.
In terms of the bad, a single word said it all, apartheid and the suppression of virtually every indigenous people, perpetrated by the same psychiatric ideologies that laid 6 million to rest under the banner of eugenics during the second World War.
But beneath that surface, that obvious suppression he found something far more significant: An unbroken tradition of spiritualism extending back to the very dawn of man.
And, like all else LRH confronted, it was no ivory tower observation. For while he befriended Ministers and had tea with their wives, he also entered the townships, attended tribal celebrations, and even shared their beer. And what he found was an indomitable human spirit that, although suppressed, no one could extinguish.
Which is to say, he discovered it was not for nothing that Africa was called the "cradle of civilization," possessing a spirit that, if sparked, could burn forth throughout the world. And that's the substance behind LRH's prediction that:
"From Southern Africa will spring the next great civilization on this planet."
And even more than a prediction, let there be no doubt, it was his dream. Yes, he worked to address the problem directly, and at every strata, from programs for white juvenile delinquents, to literacy tools for black African schools—not to mention an end to the policy of separateness.
But there was something far more important. Because LRH knew those chains would be broken, and yet the freedom sought would not be achieved without something else. For, how free is a man if he is not able?
And that is why, above all else, he worked to bring the spiritual freedom that is only possible through the technology of Scientology. And so the Johannesburg Church served as his base of operation to, quite literally, standardize the pattern of operation for all Scientology.
More than just the training of auditors, he worked to provide the means to place the tech in everybody's hands. Developing the Anatomy of the Human Mind Course as the means to both enlighten and educate anyone — that was Johannesburg. Then again, the Personal Efficiency Course, for the everyday man. That too was Johannesburg.
And while LRH would soon return to Saint Hill, to both standardize auditor training throughout the world, while also providing the Grade Chart itself, his heart never left Africa. Point in fact, the filmed LRH lectures comprising the Clearing Course were filmed in Africa.
And while that story is long, it can best be summed up in another statement he authored in Johannesburg, wherein he defined "Personal Integrity":
"To know what you know and to have the courage to know and say what you've observed."
Since ultimate freedom could not be achieved in a land where 90% of the people could not yet avail themselves of it, LRH set out to change that in the most direct and practical terms, proposing constitutions in both South Africa and Rhodesia calling for "one man, one vote."
While he brought those proposals to the highest levels, he was still yet thirty years ahead of his time, and the powers-that-be were frightened by his vision of freedom for every man. And although it was the end of that chapter, it was far from the end of the story.
For herein was also the lesson that while one man could not do it alone, a team of OT's could. Which, in very real terms, is the spirit in which South African Scientologists carried on through ensuing years exposing psychiatric labor camps wherein black inmates were literally leased out to corrupt corporate interests, then ramming home the issue until all black patients were afforded basic rights under law.
Working to empower the next generation, to "liberate through education," providing the tools for study to almost 2 million black students and teachers across every province. And during times of civil unrest, helping to calm full-scale riots by blanketing whole districts with a moral code all South Africa could embrace.
Until, yes, even when those chains of apartheid were fully broken, there were Scientologists providing the administrative tools for a new structure, so they could build a better tomorrow.
And that brings us to South Africa, today. For while the nation and world may yet speak of unemployment and crime, it's nothing more than the inevitable result of the past half century and evidence of the fact that "freedom from" is no freedom at all without the means to achieve that higher goal.
All of which returns us to that original LRH intention to rekindle the spirit of this land to inspire the world. And that's exactly the tradition in which you walk tonight. Because while, this evening, we celebrate the opening of this new church and its magnificent structure, what it ultimately represents is far greater than its physical presence.
In fact, and only now do we come to this event, why I am here, and what you mean to the world of Scientology. Two years ago this planet had a wake-up call. The curtain came down, exposing the fragile state of the world we live in. While others would respond with war and military action, we recognized terrorism as but a "symptom" of what really ails man.
More bluntly, the urgency of our mission had never been clearer. By the same token, the demand for our solutions had never been greater. People were asking and it was time for us to answer.
• Working on the front lines, bringing immediate help everywhere and anywhere through an army of Volunteer Ministers.
• Dramatically increasing our presence and effectiveness in providing solutions for the societal decline of immorality, illiteracy, addiction and criminality.
• And finally, yet most important, expanding our organizations at a whole new order of magnitude, so as to bring permanent resolution to the endless cycle of man's inhumanity to man.
And lest you have ever thought you were but a forgotten outpost of the Scientology world, or all I have relayed so far was mere "history," then let me clarify. Because, in fact, what we are bringing to African Scientologists today, with this new church, is what you have been bringing to the rest of the world.
And while you will hear much more about our international accomplishments at the International Association of Scientologists event 2003, there is a point to every one of those stories that concerns you. In July, we opened a hundred-acre campus in St. Louis, Missouri, to train teachers from around the world on Study Tech, so they may take it, and train others themselves.
In attendance were leaders of education from every strata, including the United States government who are working with us to implement it in American schools. But in case you think that's "happening over there" ten thousand miles away, let me tell you what they saw, what impressed them the most, what brought them on board: The work of African Scientologists bringing literacy and education to this nation.
Then again, in October we opened our new International Headquarters for The Way to Happiness Foundation to spread the calm it offers to every corner of the world, every people on Earth.
Again, dignitaries came from many lands. The National Red Cross spoke of the booklet's use in calming street fighting in the Philippines and it's now a permanent part of the Red Cross' humanitarian mandate. Then again, the Prime Minister of Guyana told of the same.
And all while the Deputy Secretary of Education for Palestine spoke of a million copies of The Way to Happiness in the Middle East, until she now sees Jews helping Palestinians, Palestinians helping Jews.
So, if you have previously heard of the booklet's use in your prisons and townships, you hardly knew how far it had spread. Because your stories are what inspired all those I've just mentioned to do the same.
And finally, in September we opened the Church of Scientology International European Office for Public Affairs and Human Rights. It's located in the center of Belgium and the heart of the European Union. Officials at the highest levels who now work with us, and even participated in our grand opening, were the Human Rights Rapporteur for the European Parliament, and a 30-year member of the Council of Europe. Yet, once again, the work of African Scientologists in fighting for human rights in the apartheid era is what demonstrated to them that while they talk, we do.
So, call it the magic that is Africa, call it what you will: the fact remains that your work and your presence is felt around the world.
Which brings us to that final step of the wake-up call and full circle to that original LRH dream. For if we are to bring that ultimate freedom, it can no longer only be represented at the Flag Land Base, or our Sea Org organizations.
And that is why the final step of that wake-up call was the creation of this new type of church. Real footholds, not only to serve your community, but to generate the same everywhere else.
Although much too extensive to detail tonight, and while your executives will hear much more, I can tell you this: it's all in preparation for even more that rolls out from here in the name of planetary clearing, for real.
So no, this is not mere happenstance. It's the result of a lot of planning, and I do mean thousands of hours, and I also do mean personally.
So you ask where Africa stands today? Well, let me answer the question with another: where do we all gather this evening, the eyes of the Scientology world fixed upon us? Not America, not England, nor Denmark. They are fixed on Africa.
Because if you previously thought you stood on the rim of the world, just a "remote outpost," those days are over. Because what you have created is the finest Class V Church in Scientology. And that is why the moment is yours. For tonight Johannesburg stands as number one!
So yes, this day is historic. And what begins in Johannesburg will now move on to Capetown, Pretoria, Durban and Port Elizabeth. Until, at last, just as LRH envisioned when originally searching out an OT base on this continent, we will one day soon also place an advanced organization on African soil.
And yes, that is the future and it begins right here. Because, it is your destiny. You don't just represent the hopes and dreams of a continent, you represent the hopes and dreams of all civilization.
And, if South Africa dreams of a Rainbow Nation, then, Africa, here is your church: a church where, regardless of color, regardless of creed, regardless of social standing: you are welcome.
Because we are not white. We are not black. We are all one to another brothers of humankind.
And in that spirit it is my honor to acknowledge your grand opening with a trophy. It reads:
"'From Southern Africa will spring the next great civilization on this planet, and it will succeed because Scientology and all its technology is on its side.' L. Ron Hubbard
"To the Executives, staff and public of Johannesburg organization:
"In commemoration of the grand opening of your new church and all you will do to help the peoples of South Africa fulfill their destiny."
Thank you very much.