AUCKLAND, NEW ZEALAND
A TREASURED LANDMARK REBORN—SCIENTOLOGY OPENS NEW CHURCH ATOP AUCKLAND
JANUARY 21, 2017
Auckland celebrates grand opening of new National Church of Scientology for New Zealand at landmark site overlooking the city.
Spirituality. Heritage. Tradition. History. Education. Learning. These are pillars on which rests Scientology's new Ideal Org of New Zealand, where Scientologists locally and from across the Pacific gathered with friends and supporters on Saturday, January 21, to inaugurate the rebirth of the second oldest Church of Scientology in the world.
Overlooking the city and Auckland's magnificent Waitemata Harbour, the local historic site and cherished landmark, preserved and restored beautifully by the Church in cooperation with local architects and preservationists, is a resurrection of what was once home to spiritual training for clergy and religious scholars for nearly a half century.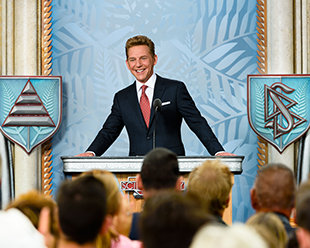 The historic site, originally established in 1844, was later expanded in 1927—90 years ago this year—as the Trinity Methodist Theological College to train theologians of the Christian faith, who later carried their missions throughout the Pacific Rim. In its new incarnation, as a spiritual centre for Scientologists of all New Zealand, it brings full circle the ideas of faith and spirituality under the tenets of Scientology's goals of a world free of war and want, and committed to humanitarian aims.
So it was, on Saturday, January 21, the new Church of Scientology opened its doors to their beautiful and meticulously restored facility for what will be not only the Church's spiritual mission, but to its vigorous outreach efforts in anti-drug and humanitarian programmes that have already been at work in the nation for decades.
David Miscavige, the ecclesiastical leader of the Scientology religion, led the dedication ceremony to officially open the doors of the new Ideal Org. In his dedication address, Mr. Miscavige spoke to the significance of the opening and the possibilities afforded every Aucklander.
"We do not regard Ideal Org buildings as buildings, per se. Rather, we regard our buildings as 'vessels for life' and the living breathing fabric of their communities. Consequently, when we bring spiritual beings back to life by restoring their own sense of spirituality—so an Ideal Org itself comes to life. And, so we thank Auckland for allowing us to serve as custodians of an Ideal Org that's just as much New Zealand's as ours."
The opening of the Church brings together a spirit of community cooperation, and Scientology's commitment that has already been demonstrated by helping preserve the heritage of Auckland's Grafton neighbourhood, and returning the building to its former grandeur, what local community members describe as honouring an "unbroken heritage as a place of enlightenment and spiritual knowledge."
Local state and community leaders and individuals involved in a number of Scientology's secular humanitarian missions spoke at Saturday's grand opening, making note of the significance of the Church's ever-expanding mission within the country.
Robin Byron, architect advisor with Heritage New Zealand, told the several thousand participants at the opening that the melding of past and present offers "a particularly satisfying parallel, that as first conceived for the purpose of religious learning and guidance, this historic landmark is now experiencing a spiritual renaissance as the new home of the Church of Scientology in Auckland.
"Your dedication in taking on the restoration of this heritage jewel has been very memorable," she said. "The building had seen many years of neglect and so this endeavour represented no small commitment. But you appreciated the richness of the history within these walls, caring for the precious materials and their fine craftsmanship."
From the red brick and white Oamaru stone fabric used across the façade, to the restoration of delicately finished oak in the entrance hall and library and preservation of rimu timber panelling and jarrah wood flooring, she noted, the work has set the facility apart as a work of art itself.
But it represents far more to a community that has seen the Church's human rights, social justice and anti-drug programmes make a difference already in the lives of young people and adults in Auckland and which will expand through the combined efforts of hundreds of volunteers and staff working from the Church's new home base in New Zealand.
Yvonne Galvin, advisor to New Zealand's Youth Crime Prevention programme, said she sees new opportunities from the Church's expansion. "Today, my cause is taking care of youth at risk," she told the assembled guests. "When I first joined the system and I saw how youth were being treated, I said to myself: 'I've got to find out something about human rights.' But I couldn't find anybody doing anything about it.
"Then I heard of the Church of Scientology and your volunteers," she said. "So, I drove across town to find you, and when I did, I remember I told you: 'I want that rights programme that you do!' And that's how we started a united movement to teach human rights to Auckland youth."
That work has had parallels for Thomas Henry, New Zealand Police Outstanding Service Award recipient and a tireless advocate against the abuse of psychiatric medications and for responsible mental health care in the country. "I deal with families who have been promised the easy 'solution' of psychiatric drugs and labels as a quick fix," he said.
"And ultimately they are left dependent and further in trouble. I've seen this my entire life. In my experience, all too often the real reasons behind mental and spiritual issues are ignored. The actual problem is that people don't know anything about psychiatry and mental health until it affects them personally," he noted. "But after finding the Citizens Commission on Human Rights, we were no longer left in the dark. Because, there is a voice in the dark, it leads to the light, and that voice is CCHR."
Mereana Peka, Chairperson of the prestigious Maori Wardens Charitable Trust, South Auckland, perhaps summed the meaning of the day best. "Every member of the Church of Scientology I have worked with has a focus on healing our world. I believe it is the Scientologists that are the living resource of your movement. It's not easy to express my gratitude to people who save lives every day. But I personally know every one of you has helped change this part of the world. And together, with this Ideal Org, that change will reach every community of our island nation."
---
The spiritual and educational background of these new grounds—the building was also home to New Zealand state educational apparatus in the 1970s, and once housed a design and art school as well—will see in the restored Church facility a revival of opportunities to continue learning, teaching and spiritual outreach.
The first Church of Scientology in New Zealand opened in 1955, and its growth and expansion in the more than 60 years since has been a realisation of Founder L. Ron Hubbard's vision for the Church and its work within the region.
---
The new Auckland Church provides visitors with an introduction to Dianetics and Scientology, beginning with the Public Information Centre. Its displays, containing more than 500 films, present the beliefs and practices of the Scientology religion and the life and legacy of Founder L. Ron Hubbard.
The Information Centre also offers a detailed overview of the many Scientology-supported humanitarian programmes. These include a worldwide human rights education initiative; a far-reaching drug education, prevention and rehabilitation programme; a global network of literacy and learning centres; and the Scientology Volunteer Minister programme, now representing the world's largest independent relief force.
Auckland's Ideal Organisation also features a Chapel that provides for Scientology congregational gatherings, including Sunday Services, weddings and naming ceremonies, as well as a host of community-wide events open to members of all denominations. The facility further includes multiple seminar rooms and classrooms, in addition to an entire floor dedicated to Scientology auditing (spiritual counselling).
---
As the first grand opening of 2017, the Auckland opening continues an explosive growth period for the Church in the past 12 months. And more is on the way, with openings in the coming year planned for cultural epicentres in Africa, Europe, the United Kingdom and North America.